"If You Can Imagine It and Visualize It, You Can Create It"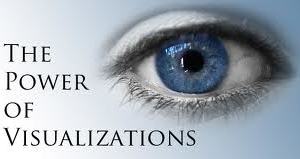 When I'm stuck or don't feel like I'm getting anywhere, I stop and take a few moments to gather myself. One way that I like to center myself and refocus is by using visualization.
The Power of Our Subconscious Mind
As a child I would dream that I could float and rise up into the air, levitate and go wherever I pleased. Of course, when I woke up, I had lost the ability to levitate myself.  My conscious mind didn't have that ability, but my sub-conscious did.
The power of the mind knows no bounds.  To help me create the future that I desire, I learned the technique of visualization.
What is visualization you ask?  Visualization is the process of affecting your future by focusing your mind on what you want to achieve.  One method I use is to visualize with the use of a physical aid, such as a vision board.
How do You Make A Vision Board?
It is simple; cut out images from magazines and paste them on a poster board.  Choose pictures that spark an emotion in you and are associated with your goals. These are the best ones to use.  You have created a collage of your desired future which you have strong feelings for.
How Does Using A Vision Board Work?
First; the process of choosing photos that make you feel an emotion sparks your imagination.  This affects the sub-conscious which guides your decision making process, thus placing you on the path to your desired reality.
Second; after you have assembled your vision board, concentrate on it.  Place yourself in a calm relaxed state and stare at the images.  Look at each picture of the collage and contemplate what it means to you.
The images that you have chosen will appeal to your inner self, the sub-conscious. This stirs your emotions, releasing the imagination.  You find yourself refocused and more determined. The next step appears and you are on your way, "Only Those Who Risk Going Too Far Can Find Out How Far They Can Go".
There's A Better, Quicker and Easier Way!
There is another form of visualization technique that uses video to create, in essence, a virtual vision board.  The video images and audio are fantastic.  The creator of this service is called Mind Movies.  It's quick, easy and accessible wherever you and your computer may be.
Give It A Thought!!!
What are Your Thoughts?  Please Comment Below
Thanks for Visiting Give It A Thought
Be sure to join me on:
Twitter:DavidDWilson
Facebook:David Duane Wilson
Facebook Fan Page:Give It A Thought