Ego vs. Humility The Eternal Struggle – Give It A Thought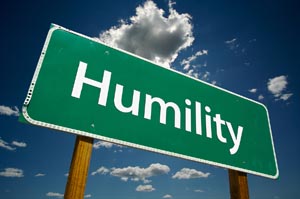 The Situation:
It was just the other day where I attended a seminar on memory loss. We arrived late and there was no parking close to the entrance. I was dropped off at the door with several items while Elaine went to find a parking place.
As I struggled to take the items in, a fellow offered to help by placing my stuff on his dolly. His act of kindness was greatly appreciated and I told him so. We shook hands as I introduced myself. He replied that his name was Ron. We rolled into the meeting and I found seats in the back.
The meeting started by welcoming all the guest and thanking those who volunteered. With everyone's attention, the host said, "I want to introduce our speaker tonight. He is the author of the book "Memory Loss". Please welcome Dr. Ronald Devere."
To my surprise, Ron got up. He gave an excellent presentation and afterwords, he signed his books. He took the time to speak to each individual and made all of us feel appreciated and welcomed.  Ron went beyond my expectations and exemplified the saying, "The Difference Between Ordinary & Extraordinary is That Little "Extra", Give More Than Expected".
I'm telling you this story because it represents a very successful person practicing the virtue of Humility.
Let Me Elaborate:
When some people become successful, they have a tendency to allow their egos to get the better of them.  They want more and the vice of greed can set in along with arrogance and a high and mighty attitude.  Keep in mind these statements, "If Passion Drives You, Let Reason Hold the Reins".  

How To Prevent Your Ego From Taking Over:
An ethical and virtuous person practices humility. Keep in mind that, "The Purpose of Life is to Live a Life of Purpose."  Once a person starts to find success, they must be on guard to prevent their ego from getting out of hand.
Although it is appropriate to bask in the glow of accomplishments and to accept complements from admirers, do not permit these accolades to inflate the ego. To prevent becoming an Egomaniac, a person must practice Humility always.
Humility:
Humility is the quality of being modest and respectful. Make a concerted effort to treat people with respect. Do not be afraid to be humble and show that you care. When people are treated in this manner they will want to engage with you.
They will become acquaintances, friends, partners, customers and beneficial sources of information. Lifelong relationships form and these affiliations open the door of opportunity.
By taking the time to show someone you care, you raise their self esteem. This simple act of kindness may be all that is needed to brighten their day.
Ego vs. Humility
Always remember the saying, "Folks Forget What You Say, They Forget What You Do,but They Never Forget How You Make Them Feel".  Check your ego and make your acquaintances feel that you care.   There is an aide to help with the development of the mind and thought process.  The  system was designed by Dr. Joe Vitale and Dr. Hew Len. Take a look at what they have to offer and see if it is right for you.
What are your ideas on Humility and the Ego? Write your comment below.
Oh! By the way the book "Memory Loss" by Dr. Ronald Devere is excellent. It talks about "Everything You Want To Know But Forgot To Ask."  I recommend that you read it. Click on this link to go to my "Awesome Resources" page and you can find it there.
Note: As always, before you perform any physical or mental exercise, check with your doctor to make sure that it is right for you.
Thanks for Visiting Give It A Thought

Be sure to join me on:
Twitter:DavidDWilson
Facebook: David Duane Wilson
Facebook Fan Page: Give It A Thought