Outsourcing: Let A Professional Do It – Give It A Thought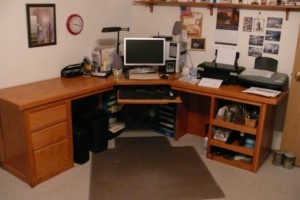 You Can't Do It All:
"There are Plenty of Obstacles in Your Path, Don't Allow Yourself to Become One".  This saying is so true on so many levels.  Sometimes you just have to get out of the way.  Allow me to relate a true story to you which exemplifies this saying.
For all my life I have felt that I'm better off doing it myself. Working around my house, minor home repairs and even the technical aspects of my Internet business. With age I have grown wiser and now realize that sometimes, "It's better to let a professional do it".  I do believe that this statement rings true for me and lots of others, "Most People Fail in Life Because They Major in Minor Things".  You simply can not do it all, you must outsource and trust.
Do I Save Money On The Labor?
When I do a project myself, I save money on the labor charge or do I?   It takes me valuable time to do it and usually more time than a professional.  They do this work all the time and are much faster and efficient at it. So I ask you, "Am I really saving money in this situation?" I'm tied up doing the task, when I could be doing something else that I do well. Chances are, I am not saving money on the labor.
Do I Do As Good A Job?
Well now, that is really debatable. I have always prided myself in my work. I always try to do my best. I now realize there are some things that others do much better than myself. As an example, setting up a website.
I have been blogging for four years using WordPress and various themes. I have never been totally satisfied with what I created. After joining the Ultimate Blog Challenge this July, I got to look at several different websites. "Shock and Awe", these sites are awesome! The "Light Came On", and I realized what I created couldn't compete.
I Need Help!
Once I realized that my site couldn't compete, I knew that I had to find help. I had to remind myself of the saying, "Your Mistakes are Your Proof That You are Trying, Expect Mistakes & Learn From Them".  I knew I had to do something, so before making a decision, I did my research and asked for help. I went to my trusty coaches and mentors and compiled a group of web designers that they recommended. I asked for quotes and chose a person I could easily talk to and felt comfortable with.
How Do I Feel?
I feel great about this outsourcing decision. I did my homework and I'm totally at ease with the decision. I have viewed this designers previous work and know that they will do a good job.  I had to keep in mind the statement, "What You Desire is on the Other Side of Your Perceived Obstacles".  I did my research, felt comfortable with the new employee, stepped out of my comfort zone and made the decision to outsource.
How Does My Employee Feel?
This becomes a win / win situation for me and my employee.  Realize that "Few things Help a Person More, than to give them Responsibility & then Trusting".   By assigning a task and then trusting the results to my staff member, I have raised their self confidence and tapped into their expertise.
What Had Happened?
I had to give up the self limiting belief that "I can do it better".  I know that I don't know everything but trusting others has been difficult for me. Being able to trust is a trait that I have had to cultivate. Through my use of Positive Thinking and the practice of Positive Reinterpretation of Negative Thoughts, I have grown to trust. If you have difficulty trusting, take a look at Zero Limits. This system by Dr. Joe Vitale and Dr. Hew Len has helped me in all areas. Take a look at it and see if it is right for you.
What Are Your Thoughts On Outsourcing and Trusting? Let Me know By Commenting Below!
Thanks for Visiting Give It A Thought
Be sure to join me on:
Twitter: DavidDWilson
Facebook: David Duane Wilson
Facebook Fan Page: Give It A Thought